January 9, 2013
After previous cat trends of Cat wigs, cat breading/planking and toasting and awkward cat sleeping positions, here is the latest one as shown to me by my brother, Andy : Cats that look like Hitler or Kitlers.
So here are my top 5 Kitlers:
#5 – 'How dare you not give me milk!'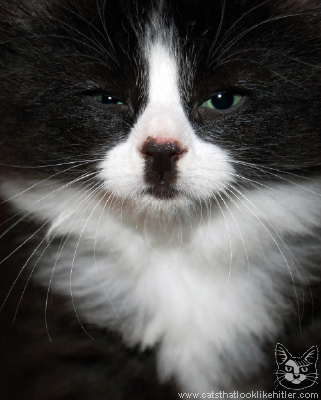 #4 – Contemplating his next move
#3 – 'Get me cat food..now!'
#2 – 'If you do that again, I'll pee in your slippers'
#1 – The ultimate feline fuhrer complete with hairstyle and uncanny look of the historical madman!
For more Kitlers, click here.
Posted by Rob Booth | Filed under: All, Comedy, General, Useless but amusing | No comments yet - be the first
November 26, 2010
Check out this rather niche website, www.kittywigs.com , where you can order a colourful wig for your lucky kitty !! I personally don't find the look aesthetically pleasing and would in fact suggest that it looks positively demonic.
From a practical perspective and from my own personal experience, we have a cat, Tony, who if he does not wish to be stroked, it's just not going to happen.The thought of even trying to make Tony more handsome with a pink wig is highly unlikely if he's not on board with the idea !
In addition, I imagine when the ends of your beloved cat's' beautiful locks are covered in either chicken in jelly or sour milk, the desired look that the cat's owner was aspiring to must surely be lost !!
Here's where it gets even weirder, I then discovered that Facebook has 8 separate fan pages for these Cat wig enthusiasts, the most popular of which has nearly 5 000 fans, www.facebook.com/pages/Kitty-Wigs !!
The final icing on the cake for me was seeing the promotional line on the most popular of these Facebook Fan pages – 'We believe in bringing your cat's dream's to life.'
If you look at the image above of the cat in the pink wig, I don't believe that he thinks he is living the dream, but is probably more likely to be thinking that he is going to leave a surprise in his owner 's slippers in the morning !!
Posted by Rob Booth | Filed under: All, Comedy, General, Useless but amusing | No comments yet - be the first